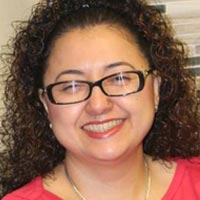 Committee
Hola! I'm Gianina Paola, a Daughter (by His grace and Mercy) of the Most High God and a humble servant in His Kingdom, born and raised in Honduras where I lived until 1991, when my parents uprooted my little sister and I to make Miami, FL our new home.
I accepted Jesus as the Lord and Savior of my life at the age of 16. Until then, all I knew was a mix of legalism and religion combined with an erroneous fear of God.
During my teenage years and well into my early twenties, I taught Sunday school and served in various ministries in my local church. I had no clue why I was trusted with such responsibility at such a young age, but both, Pastors and Ministry leaders alike, saw something in me that I had not yet discovered. All of this involvement has helped me for what the Lord has called me to do for His Kingdom this side of Heaven.
In 2014, I met Carla as she was putting together a group of ladies to go to a Women of Faith Conference in Orlando. I have been part of The Blue Line Angels Church ever since. Carla's passion for the Lord and to minister to every soul she meets is infectious and has been a vital part of my walk with God during the highs and lows of these past seven years.
I wish I can tell you that I have always been faithful to Him, but the truth is, I have not. We go through more valleys this side of Heaven than we stand on mountain tops. But God…Oh! He is so gracious to me. To all of us!
Currently, I am an active member of my local body of faith at Christ the Rock Community Church in Cooper City, FL. I am an active serving member in Women Ministry, Spanish Translation, Discipleship, Missions and Creative Arts (theater). I am also part of a missionary family called Roatán Alive Mission, which has traveled to Honduras every year since 2008 for two full weeks, filled with ministering opportunities to serve the local community of the island of Roatán, Honduras to fulfill Jesus' great commission for each of us (Matthew 28:19-20).
The Lord has been gracious to me all throughout these years and has shown me, little by little, that the reason for that sudden move to a new land when I was a teenager was so that I could fall in love with Him and have a personal relationship with Him, for Him to mold me into the servant that says Here I am Lord, send me (Isaiah 6:8). The shifting was necessary for the vision to come to pass and testify at His appointed time. Scripture says that He has established our appointed times and the places where we should live (Acts 17:26). Although at times it seemed that the vision is delayed, by His grace, He continues to prepare me until His appointed time. After all, the meaning of Gianina is 'God is gracious'. Yes He is! To Him be the glory and honor always and forever.
Love and blessings always.
Philippians 4:13 (Amplified Bible)
13 I can do all things [which He has called me to do] through Him who strengthens and empowers me [to fulfill His purpose—I am self-sufficient in Christ's sufficiency; I am ready for anything and equal to anything through Him who infuses me with inner strength and confident peace.]
Ephesians 2:4-5 (ESV) But God, being rich in mercy, because of the great love with which he loved us even when we were dead in our trespasses, made us alive together with Christ —by grace you have been saved.
Spread The Gospel and Change Lives