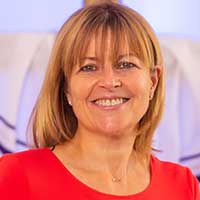 Leadership
I have always been passionate about people and helping others. I consider myself a happy person. I have been blessed with three exceptional children and the best husband I could ever imagine. And until 2009, I was also a happy banker!
After losing my job twice in two years, I decided to make a career change. I went from being a banker for eighteen years to becoming a leadership coach and launching my own business Gillet Couto Consulting; a firm that specializes in coaching, consulting, and cutting-edge training services for corporate executives.
Although I was raised in the Christian faith, in the last four years, a series of events have deepened my connection to God. In 2016 I went on my first mission trip to Cuba with my local church and fell in love with serving the Lord through international missions. I went back twice. In 2019 my husband and I sponsored five Columbian children through the Christian organization His Children International. The more I connected and supported children with dire needs the stronger I felt God's calling to engage with him in the service of others.
In August 2019, I started a Master's Degree of Arts in Leadership at Trinity International University. This decision changed my life and Jesus became my first priority and in 2020, I joined the Bible Study of the Blue Lines Angels. With the Blue Lines Angels, I discovered fasting for spiritual transformation, I experienced the power of the Holy Spirit, and Carla Ginebra De Garcia officially became my spiritual mentor. I re-discovered the Word of God, and I even learned how to pray to please our God Almighty (Praying the Bible, Donald. S. Whitney). I am so thankful for my transformation! Thank you Jesus!
My unconditional love for our creator grew beyond my imagination strengthening my relationship with God. His forgiveness and mercifulness are the most precious gifts we can receive on earth. Serving Him is a privilege that I honor every day of my life. I am thankful for my life and what lies ahead with God as my first and foremost priority. I love Jesus with all my heart and my prayer is that you will experience that LOVE as well. No one will ever love you as Jesus does. Let's rejoice in Him so we may experience His peace and live with JOY in our hearts.
"Do not be afraid, nor be dismayed, for the Lord your God is with you wherever you go."
Joshua 1:9
Spread The Gospel and Change Lives