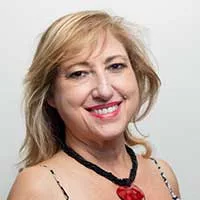 Committee
I am Alicia Rengel, professionally known as Alicia Forte (I have been known as Alicia Forte for the last 30 years doing Immigration and everybody knows me by that name). However, 9 years ago I met the most wonderful man whom I now call husband, prayer partner and my companion in life; his name is Jorge Luis Rengel, born in Ecuador. I am a proud citizen of the United States but I was born in Cuba I came to live in Miami when I was 5 years old... a long time ago. My husband and I love to travel and we have become experts in the matter, especially when it comes to Spain where my oldest stepdaughter lives.
I enjoy a beautiful family that includes my son, Dr. Rudy Forte, my step-son, Jorge Rengel Jr. an engineer who graduated from UF, my stepdaughter Lorena, who resides in Madrid with our 2 year old granddaughter, Paula and my step-daughter Joanna and her 5 year old daughter, Violeta whom we call "Violeta de mil Colores" which means Violeta of a thousand colors, who are both living with us. I am in love with my beautiful granddaughters. You see, I am convinced that "Love is intoxicating" and that goes especially for my Love for Christ!
How do I know The Blue Line Angels Church: I have met this wonderful group called "The Blue Line Angels Church" before but we really connected when I participated the "Bee Transformed" Retreat in September 2017. That Retreat changed my life forever because after it, I joined the Bible Class which Carla Ginebra De Garcia started, and I have to say that now I understand the Bible as never before. Carla has the most wonderful anointing connection to the Upper Room. Through Bible class I have met a group of wonderful women who inspire me, motivate me and make my Saturday morning the motor which drives my work week. My Sisters in Christ are a great asset in my life, and I am thankful for the support, friendship and community worship we share. Not forgetting to mention that our husbands have become Brothers in Christ and we have a bunch of fun together!
By the way, my favorite Bible Verse and my daily prayer is to live by "But the fruit of the Spirit is love, joy, peace, forbearance, kindness, goodness, faithfulness, 23 gentleness and self-control. Against such things there is no law (Galatians 5:22-23)."
Spread The Gospel and Change Lives