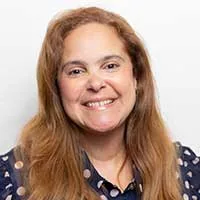 Committee
God gave me a name before I was placed inside my mother's womb by Him. Pilar is my name. Little did I know that it means the same as a Pillar. Just like the Pillar of fire in the Desert protecting the Israelites. I came from Santo Domingo, Dominican Republic in Summer of 1991 with my Sister, Carla. We were both raised Catholic Christians and also attended a Catholic private school.
I always read the bible and maintained a close relationship with Jesus. When I moved to Miami, I continued practicing the Catholic traditions. As I was interacting with friends in high school, they started to talk to me about their Christian lifestyles, which were different from my own and I started to research different types of Bibles. I attended Barry University and took religion classes. I had to do a Dead Sea Scroll research paper and that started to open my eyes about what my friends in high school were trying to tell me. My mother started going to a new church called "Luz Del Mundo." She invited me to that church at the age of 23. It was in that church that Jesus revealed himself to me. He said to me: "I don't need you, but you need me. With me in you, we can work together for my Father's Kingdom." I was on my knees, crying uncontrollably and unable to get up. I tried to open my eyes and I just couldn't lift them up because of His brightness. I remember seeing just the front edge of a sandal. After that day, I have never been the same.
I continue to study the Bible and to learn about God's forgiveness everyday, a journey of faith alone with Him. In this walk, I have had struggles, trials, valleys, wilderness, and more. In all of them God has left His fingerprints in my heart, mind, and spirit. Even though many times, I have felt like Job, but God still shows me his mercy and forgiveness. His love, despite being a sinner, has kept me going along with His strength that never fails.
Life's trials have, and continue to shape me. As a single mother raising a teenage daughter, with whom I'm learning to be patient and a great mother as Abba Father has trusted me to accomplish for generations to come. Going through four major surgeries from which I learned to trust Jesus' power for healing. Today, I breathe on this Earth thanks to his favor and grace. I praise and worship Him for all the testimonies, all for His Glory!
I've been part of The Blue Line Angels Church since its inception. Serving the Lord with integrity and honoring in everything. We do this by coming alongside many women who have a desire to seek Him in spirit and in truth. My lifestyle has changed for the best of my family and me. My Christian walk has been shaped by all that I learned about God, Jesus, and the Holy Spirit. His eternal plan and His unconditional love that gives you peace to continue in a relationship that will never be broken (2 Chronicles 5:13).
God is a faithful father! I thank Jesus for saving my life (Mathew 18:12-14). Trust in God for He is in control of your life and the lives of those you love dearly (Psalms 133:1).
Come let's follow Jesus!
Spread The Gospel and Change Lives