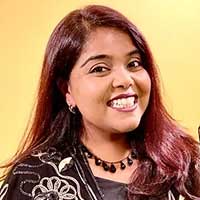 Worship Leader
Sharon is a worship director, with a genuine desire and passion to make melodies of praise and worship bring the message of God come alive and touch the hearts of His people. Starting music ministry at a very young age, as a choir director, Sharon has seen the impact of worship music changing her own life and in the lives of others around her. God has been using her to write songs and share her gifts to reach out to many.
While working as a middle-school Science teacher with Dade County Public Schools, for over 18 years, Sharon balances the life of wearing the many hats of a teacher, a wife, a mother, and a leader, by the strength and guidance of none other than Jesus Christ in her life. Her heart seeks to share her love for Jesus, in every one of those areas of her life.
Sharon and her husband, Aji, are blessed with their three beautiful daughters, Kaitlynn, Angelynn, and Sherlynn. As a family, they have been serving God through different areas of ministry.
Spread The Gospel and Change Lives